Functional Features
With 1 CAN communication interface, 2 analog input;
LCD display mileage, range and speed ratio can be customized according to customer requirements;
Signal comes from engine CAN message or speed sensor, CAN message is preferred;
Conform to the J1939,Suitable for Cummins, Weichai and other domestic and foreign engines;
Independent research and development, professional automotive components quality assurance.
Typical Applications
Engineering Machinery, Special Vehicles,Sanitation Equipment, Generator Set, ETC.
Road and Bridge,Ship, Petroleum(oil), Mining Equipment Industry and Fire Industry, ETC.
Dimensions, Wiring and Pins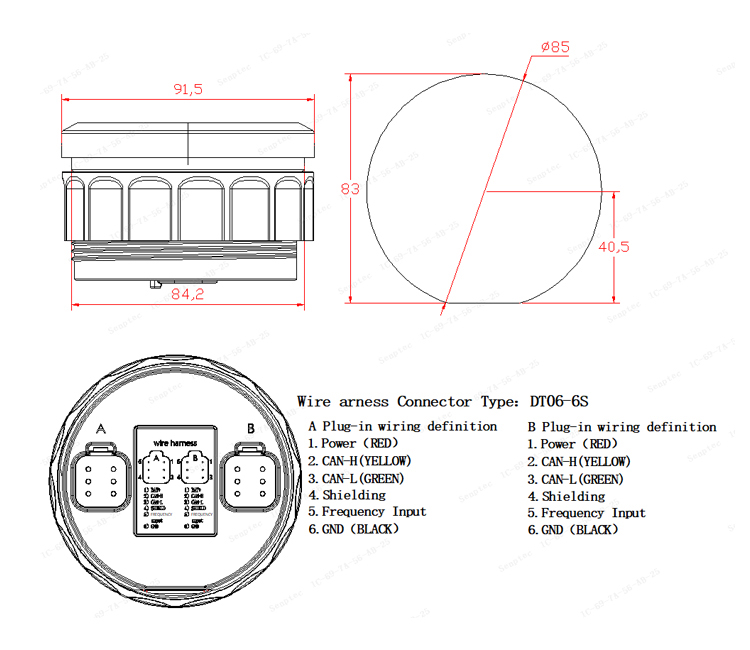 1、Wiring Instructions:
pin 1 is the power cord, which needs to be connected to ACC or ON switch;
pin 2,3 are CAN communication line, which is connected to engine ECU after twisted-pair; When the engine is not electronically controlled, the three wires are not connected;
pin 4 is the shield line of CAN line;
pin 5 is analog/frequency input;
Plug end model:Deutsch DT06-6S;
pin 6 is ground wire, which needs to be connected with wire.
2、Signal Source:
The instrument works preferentially from CAN signal, if there is no CAN signal, it works according to sensor signal, but the customer needs to provide sensor parameters.